Jesse Jane Interview 2004 - Jesse Jane's Bio & Movies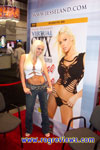 Here we are again with Jesse Jane, one year after our first interview. It has been a really big year you for?
Yes it has.
When we did the interview last year, you had yet to shoot your first scene. We had only seen you in photos. How many movies did you release during your first year?
Five.
Which do you think was the best?
My Virtual Sex was a good one. It was a lot of fun to shoot. I have a new one coming out in two weeks called "Loaded." It's my first action movie and has great sex. I had to learn how to kick box and shoot guns for that one. It was the most fun I've had on a set.
What about something that is already out?
A lot of people like "Jesse Jane: Erotique." That was a vignette movie. You know I have too much fun to pick a favorite.
What was the best part about "Loaded" was it the guns or the kick boxing?
The guns. I had the biggest grin on my face. They kept having to tell me to wipe the smile off my face because I was supposed to look scared.
What is it with girls and guns?
I don't know. There was just something about shooting that I loved.
You are nominated for AVN's Starlet of the year, nominated on my site for Best Newbie and you've had several other nominations. People are looking at you as the next big thing. Is this what you expected?
It is way more than I ever expected. I was so nervous coming in. There are thousands of girls and I knew I had to do my best to compete with them. All of the nominations are very flattering. I just found out I was nominated for Best Tease Performance as well.
And that is just for the top you're wearing walking around the floor today.
You like my top?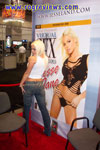 Oh yes.
Thank you. I have some cute ones this year.
Do you think you have a good chance of winning tomorrow night?
I don't want to say too much, but I hope so. There are a lot of girls nominated, but it would be such an honor. There are some great performers. If I win, I would be very proud.
If you couldn't win, is there anyone on the list that you would like to see win?
Stormy.
Devon says that Stormy eats the best pussy. Have you had the chance to test her out?
Not yet. She is under contract for another company, but we are going to shoot some content for a web site really soon.
Devon got her off-screen.
I'll have to keep that in mind next time I see her.
Do you like girls?
I love girls.
Who has been the best so far?
Belladonna was really good and so was Jessica Drake. I would say it's a tie.
Jessica Drake is very pretty.
Jessica is gorgeous. She was in my first scene ever.
I still haven't interviewed Jessica; do you think you can put in a good word for me?
(She screams into the microphone) Jessica, do an interview with Rog. He rules!
Devon told me that you were a big football fan. Who is going to win the Super Bowl this year?
I would say that the Titans are going to win this year.
What about guys, any favorites?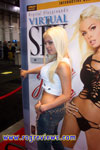 I've only worked with a few guys. Lee Stone is one of my favorites.
Really? His dick is bigger than your arm.
I know. I was so scared at first. He is in loaded and I was so scared. He has such a huge cock and it curves. I wasn't sure if it would fit.
Did it fit?
Did it ever. I would say that it was one of the best experiences I have ever had, on or off screen. He threw me around he was passionate and intense. Lee fucks so good. You can see in the behind the scenes footage that we just wouldn't stop. We started fucking before the scene started, we fucked when they said cut and when the scene was over we kept fucking. We even fucked in the shower while we were getting cleaned up.
Some days it is good to be Lee Stone.
Lee Stone is a great performer and a great fuck.
Is he the biggest guy you've ever been with?
Yes he is.
Are you hooked now?
I can't wait to shoot with him again.
Are normal sized guys out for you now?
No. I still love all kinds of cock, but when I need a really good fuck it has to be Lee.
You haven't given me my shot yet.
Yeah, you think I should?
You never know.
I'm going to call you next time because a girl can never have too many great fucks in black book.
You haven't done anal on screen yet.
No. I am holding on anal. I don't like anal actually. I'm sure that I will do it at some point in my career, but not right now.
In the meantime we can all stare longingly at your butt.
And you can all think "If only she would let someone stick it in there."
That is exactly what I was thinking.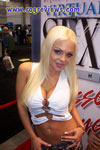 I know. I can read your mind.
That could get me in trouble.
You're already in trouble. Bad boy.
What have you got coming up?
I have a scene with Devon coming up. A lot people have wanted to see us do a scene together. She is gorgeous and is one of my favorite performers so that will be a good scene to watch.
Last year you told me that you were a Hooters girl before porn.
That's right.
Do you get hit on more now that you are a porn star or did you more guys hit on you when you were a Hooters Girl?
It's very different. At Hooters it was constant. People see me now and they are like "Hey you're Jesse."
Now you have a name, not just a great ass.
I sign autographs now. I had never done that. I took pictures with people, but never had them ask me to sign things.
So it's a different kind of flirting.
It is. I love it. I am so flattered, but I just don't always no how to handle it.
We need to know the inside scoop from someone who knows. Everyone goes to Hooters and almost everyone hits on the girls. Does anyone really get to go home with a Hooters Girl?
Plenty of people got home with Hooters Girls. If you have the right moves and the right words you can go home with a Hooters Girl pretty easily.
Do you think I have the right moves?
What do you need a Hooters Girl for Rog? You can go home with porn girls.
I don't have the right moves for porn girls either.
That's not what I hear. Besides, your moves are working pretty well on me so far.
You're teasing now.
Maybe, maybe not.
You haven't done an interracial scene yet.
No.
Is that something you aren't going to do?
I have a list of people that I would work with and I let the directors pick from that list. They haven't picked anyone yet. I am not against it (interracial) at all.
Are there black men on your list?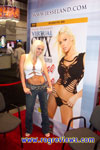 Yes.
Who?
Lexington Steele.
You want to do a scene with Lex?
Yeah, he is great. He is handsome, charming and has a huge dick. Why wouldn't I want to do a scene with him?
OK, so we're just waiting for a director to cast Lex in a scene with you.
Yep.
You said you like sports.
I love sports. I'm such a tomboy.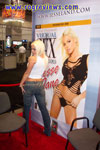 What do you think of the Kobe Bryant situation?
Here is what I think. Stars are targets. There are star fuckers out there. Yeah, sometimes they mess around, but you can easily tease someone into messing around and then you've got them. I believe he is innocent or rape. It was wrong of him to cheat on his wife. I'm not saying he didn't make a mistake, but I honestly believe that he didn't commit rape. She is the one who went up to his room, so come on.
There is still a trial of course.
Right, but unless I have more evidence I believe that she wanted to fuck him.
Have you ever been with Kobe Bryant?
I have not been with Kobe Bryant, no.
Have you been with anyone famous?
(She laughs) Yeah I have.
Give us a hint.
He's been in a few movies.
A mainstream actor?
Yes.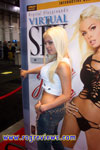 He isn't engaged to J-Lo is he?
No. He likes to sing and has a band.
Now we can all try to figure out who he is. But the main question is, was he any good?
Yeah. He can eat pussy like nobody else.
Did he have a big dick?
Yes.
You hesitated and looked away, are you fibbing?
No. I just didn't care much about how big his dick was because he ate pussy so good.
What is your web site?
What is there?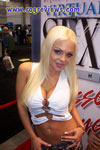 Exclusive pictures, video, updates on what I'm doing. Eventually I will be dancing so there will be a dance schedule. When we get home from the show I am going to be molded, so that will be up there.
Do I get one of those to sample?
Sure you do.
Do I get to try the real thing to compare?
Yes. I want you to try both and then tell me if it feels real.
I have that on tape so it has to happen now.
It's evidence huh?
I'm going to give you the best three seconds of my life.
Woo-hooooo.
This is your second show. How has the fan reaction been different this year?
It is really cool. People recognize me now. Last year people didn't know me. I signed a lot of pictures, but it is more fun this year. I have actual fans instead of just people who are curious.
Even though we did this last year, let's run your stats again. How tall are you?
Five-three.
How old are you?
Twenty three.
With blonde hair and your measurements?
34D-22-32.
And they are so close to my face that I can hardly even see what color her eyes are.
They are green and very tired right now so keep staring at my chest, that's just fine.
I think I will do that for a while even after we turn this thing off.
OK, I'll just say good bye to everyone. Thank you for the support and I hope you keep watching.